Comment by Jim Campbell
September 28th, 2021
No one actually expects those who were responsible for this debacle to step up, show leadership and responsibility.
That just likely isn't going to happen.
Be clear, any member of the U.S. fighting forces in Afghanistan would have blown up all the sophisticated machinery to bit.
Remember, 13 members of the U.S. Marines/special operators were killed during the "Cut and Run," exercise.
An Afghan soldier take a selfie with his mobile phone inside the Bagram air base after all US and NATO troops left. (Getty Images)
Unless of course they were directed to do otherwise which was likely the case.
Today's testimony under oath will likely shed no additional light on why Afghanistan has one of the most highly sophisticated military weapons system on the planet.
The Taliban has seized US weapons left in Afghanistan worth billions — possibly including 600,000 assault rifles, some 2,000 armored vehicles, and 40 aircraft, including Black Hawks, according to reports.
The US gave the Afghan military an estimated $28 billion in weaponry between 2002 and 2017 — including seven brand new helicopters delivered to Kabul just a month ago.
The war chest also included the supply of at least 600,000 infantry weapons — including M16 assault rifles — as well as 162,000 pieces of communication equipment and 16,000 night-vision goggles.
In just two years from 2017 to 2019, the US gave 7,035 machine guns, 4,702 Humvees, 20,040 hand grenades, 2,520 bombs and 1,394 grenade launchers, The Hill noted, citing a report last year from the Special Inspector General for Afghanistan Reconstruction (SIGAR).[Source]
Not a problem:
F-16 Fighting Falcon, Image from the United States Air Force.
How much is an F-15 worth, anyway? As much as $87 million USD. How about a Black Hawk helicopter?
Top Pentagon officials are set to appear on Capitol Hill, giving lawmakers the first opportunity to grill them for the disastrous withdrawal from Afghanistan and subsequent fallout, which saw 13 U.S. service members killed and a retaliatory airstrike kill multiple innocent victims.
Secretary of Defense Lloyd Austin (left) continues to have "confidence" in Chairman of the Joint Chiefs of Staff Gen. Mark Milley amid calls for Milley's firing.
Defense Secretary Lloyd Austin , Joint Chiefs of Staff Chairman Gen. Mark Milley , and U.S. Central Command Commander Gen. Frank McKenzie will testify before the Senate Armed Services Committee on Tuesday and the House Armed Services Committee on Wednesday.
The Biden administration withdrew all remaining U.S. forces from Afghanistan at the end of August, but the final weeks were mired with various crises. The U.S.-trained and funded Afghan military crumbled during a Taliban military offensive, and the Taliban were able to overthrow the government only two weeks before the impending withdrawal date.
Once the Taliban's ascension to power was complete, the United States and various western countries launched an unprecedented evacuation effort for third-country nationals and Afghan allies who had helped the West during the war and were thought to be in danger under the new government.
Military and administration officials were caught off guard by the Taliban's success, and lawmakers are expected to ask about various strategic decisions, such as the decision to desert Bagram Airfield to instead utilize Hamid Karzai International Airport.
FRANCISCO SECO/AFP/Getty ImagesGeneral Austin Scott Miller (right) speaks with General Curtis Scaparrotti.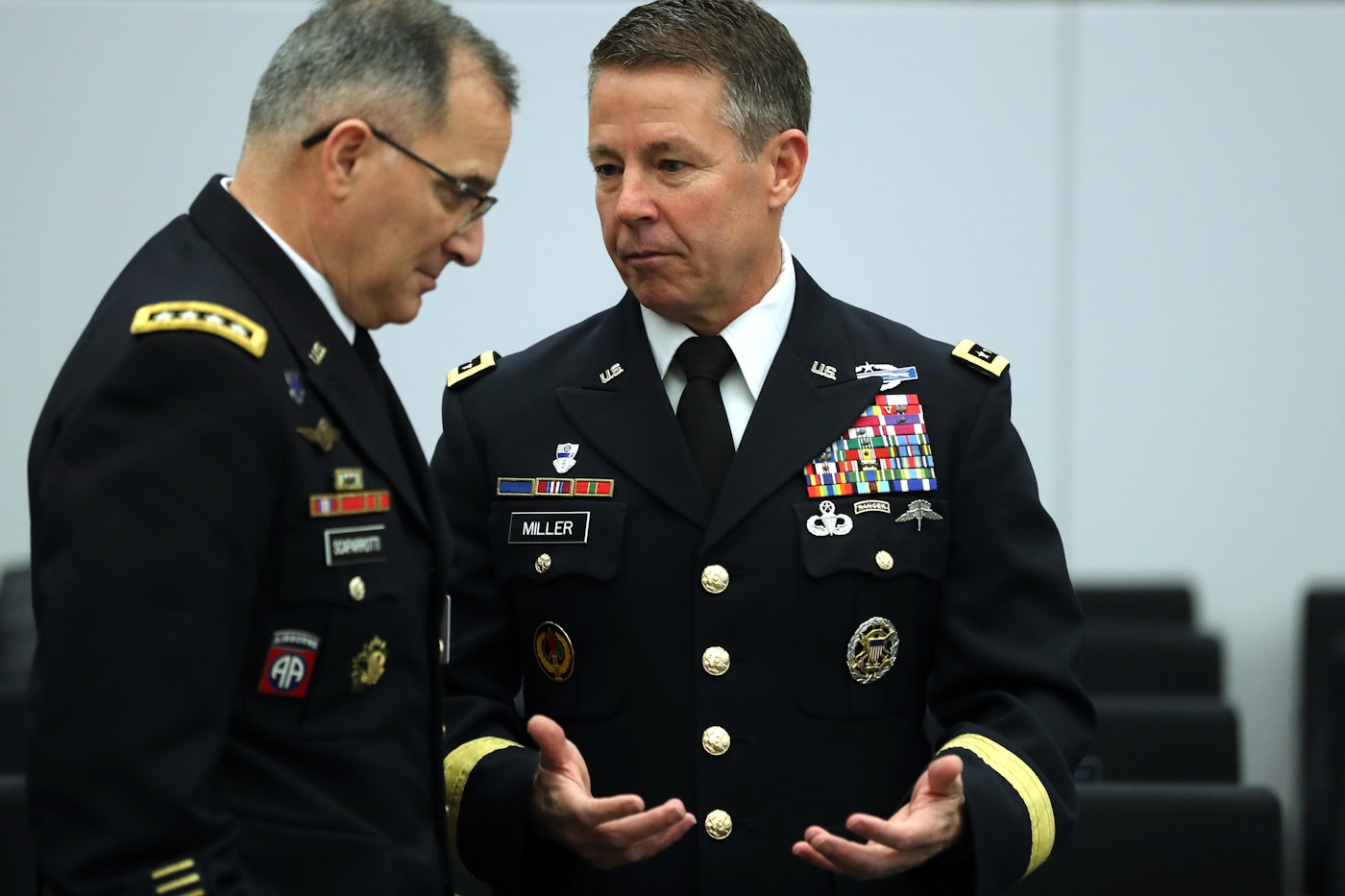 Miller was the only one among the generals who was prepared to give honest straight forward answers.
Of course he was dropped from the list of the generals being deposed.
The evacuations, which resulted in the removal of more than 120,000 people during August, were a target for terrorist attacks by groups such as ISIS-K , the Islamic State affiliate in Afghanistan.
Those concerns became a reality on Aug. 26, when a suicide bomber killed 13 U.S. service members and roughly 170 civilians at the gates outside the airport.
The U.S. military subsequently launched two airstrikes on Aug. 27 and 29. The first one targeted and killed Kabir Aidi, an ISIS-K member who was "directly connected to the ISIS-K leaders that coordinated the August 26 attack," said Army Maj. John Rigsbee, a CENTCOM spokesman, while another low-level ISIS collaborator was also killed in the blast, according to a source familiar with the strike.
The second strike, however, targeted and killed an aid worker and nine other civilians, including seven children.
"We now assess that it is unlikely that the vehicle and those who died were associated with ISIS-K or were a direct threat to U.S. forces," McKenzie said at the Sept. 17 Pentagon press briefing.
"I offer my profound condolences to the family and friends of those who were killed.
This strike was taken in the earnest belief that it would prevent an imminent threat to our forces."
There are now two separate investigations into the botched drone strike; Air Force Secretary Frank Kendall selected Lt. Gen. Sami Said to lead one, while the Office of Inspector General at the Department of Defense will also investigate the strike.
There were hundreds of American citizens and thousands of Special Immigrant Visa holders left behind when the U.S. left Afghanistan. Many of them are now trapped there.
Milley is also likely to face questions regarding his interactions with his Chinese counterpart Gen. Li Zuocheng, which became a source of public scrutiny following new reporting in the book Peril by Watergate journalist Bob Woodward and Washington Post reporter Robert Costa.
In two calls, one right before the 2020 election and one after the Jan. 6 Capitol riot, the chairman of the joint chiefs reportedly told Gen. Li that he would warn him if there was an impending attack from the U.S., and the book alleged that Milley initiated the conversation because he was concerned about what President Trump might do while in office or afterward.
THE END