Comment by Jim Campbell
August 10th, 2021
Readers at our site know that per cents mean next to nothing.
It was Mayor Lightfoot who saw to it that normal police patrols were removed from her blue streets.
Seriously, there was a peak during our weapons testing exercises that it was safer to be in Afghanistan than on the streets of Chicago.
Another was shot dead, that's a hundred percent increase.
In 2011 the U.S. suffered 563 deaths the bloodiest loss of life to date.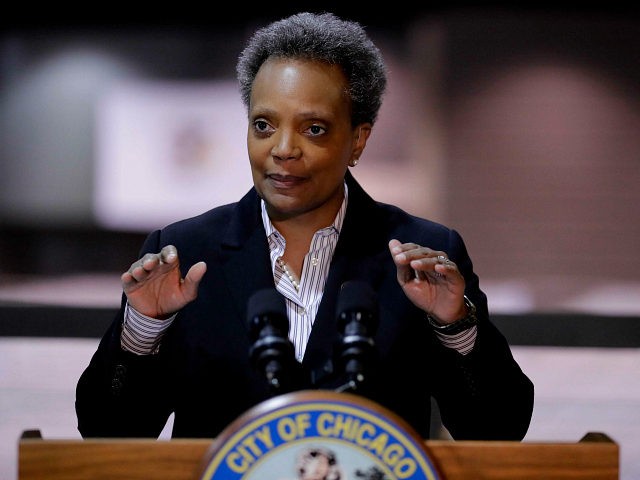 Chicago cops give turn their backs on Mayor Lightfoot at hospital after two officers shot
Chicago Sun Times
Aug 10th, 2021
Chicago police officers turn their backs to Mayor Lori Lightfoot late Saturday at University of Chicago Medical Center.
Chicago Sun Times
Aug 10th, 2021
Chicago police officers turn their backs to Mayor Lori Lightfoot late Saturday at University of Chicago Medical Center.
They turned away and gave her their backs on her.
Chicago Police Officer Ella French was shot and killed during a traffic stop Saturday night in West Englewood, while her partner continues to fight for his life at the hospital. Three people are in custody.
Just moments before about 30 officers turned their backs on the mayor, Lightfoot tried to talk to the male officer's father, who himself is a retired Chicago police officer.
He clearly wanted nothing to do with Lightfoot, according to two sources who were there.
The father excoriated the mayor and blamed her for what had happened.
One source said Lightfoot handled herself well as the father yelled at her.
She listened and treated him with respect.
Shootings and homicides this past weekend
Are the police bad shots or do they intentionally intend not to kill those they shoot? I'm going with the former.
It was then suggested that Lightfoot say a few words to nearby grieving officers, but as she approached, they all walked away from her and to the other side of a bank of chairs — and turned their backs, the sources said.
Bill Maher, a liberal and a very intelligent guy isn't buying for one moment the defund the police movements going on in his blue states, counties, cities, townships and his home town.
"They did the about-face — it looked like it had been choreographed," said one of the sources present, calling it "astounding."
Lightfoot appeared shaken, according to one source. Then she went downstairs to speak to reporters at a news conference about the shooting.
"The police officers' decision to turn their backs on the mayor while waiting with the family on the 7th floor was significant," FOP President John Catanzara told me in an interview.
"Turning their backs on the mayor was an excellent example of how the hundreds of police officers felt waiting outside the hospital," Catanzara said.
Officers no longer support Lightfoot's leadership, Catanzara said.
"They have had enough and are no longer going to remain silent anymore."
In a statement released Monday afternoon, the mayor's office said in part: "The mayor was present at the emergency room to offer support and condolences to the families involved and the hundreds of line officers and exempts who were there, which she did.
The mayor spoke to a range of officers that tragic night and sensed the overwhelming sentiment was about concern for their fallen colleagues.
"As the mayor stated . . . now is not the time for divisive and toxic rhetoric or reporting. This is a time for us to come together as a city.
We have a common enemy and it is the conditions that breed the violence and the manifestations of violence, namely illegal guns, and gangs."
Sign up for the newsletter Breaking News
Know about breaking news as it happens. We follow the stories and update you as they develop. Email (required) By signing up, you agree to our Privacy Notice and European users agree to the data transfer policy.
THE END