Comment by Jim Campbell
September 4th, 2021
Thus the additional absurdity of the FAA to tell the military it can't fly over Afghanistan.
Of course that would preclude the CIA from doing anything it wants and it would be nice if they used their resources to send these rag heads to Allah.
They are about to find that the promise on 72 virgins promised in the Qur'an and later writings was also a myth and they will be met by sheep and goats that were sexually abused on earth.
FOX NEWS
Fox News Foreign correspondent Trey Yingst discusses the Taliban celebration after U.S. departure from Afghanistan on 'Special Report'
Photos emerged Tuesday showing Taliban supporters in Afghanistan holding a mock funeral while hoisting coffins draped with flags from the U.S. and other NATO countries.
Reuters obtained some of the photos that were taken in Khost on Tuesday, less than a day after the last U.S. troop left the country after a nearly 20-year engagement.
BIDEN BREAKS PROMISE TO 'STAY' IN AFGHANISTAN UNTIL EVERY AMERICAN EVACUATED
The U.S. completed its withdrawal from Afghanistan late Monday, ending America's longest war and closing a chapter in military history likely to be remembered for colossal failures, unfulfilled promises and a frantic exit of 123,000.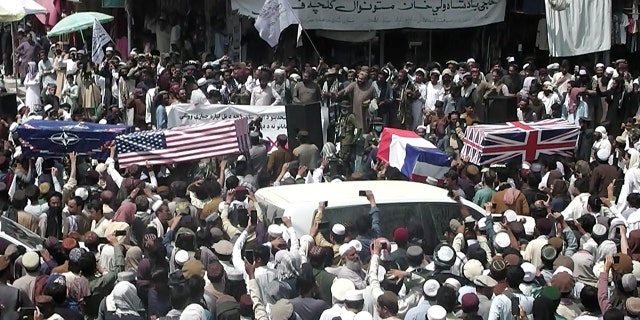 Crowd carries makeshift coffins draped in NATO's, U.S. and a Union Jack flags during a pretend funeral  on a street in Khost, Afghanistan August 31, 2021, in this screen grab obtained from a social media video. ZHMAN TV/via REUTERS  (ZHMAN TV/via REUTERS)
The Reuters report said footage from the mock funeral was shared widely on social media.
Taliban leaders took over control of the Kabul airport Tuesday and marked the departure of the last U.S. plane from the country by taking a symbolic walk across the airport's sole runway, according to a report. 
These fools will always be our enemies, their children will be our enemies, they are taught at such a young age to hate an kill.
Logical approach bomb them until their is no one living in the specific targeted area.
How else will the U.S. re-establish credibility that our country isn't being run by hamsters on a wheel?
"The world should have learned its lesson and this is the enjoyable moment of victory," Zabihullah Mujahid, the Taliban spokesman, said in a livestream video. He spoke to reporters at the Hamid Karzai International Airport and said Americans "could not achieve their goal through military operations," according to Al Jazeera.
Our allies and enemies need to receive a very clear message that we are not being run by hamsters on a wheel.
This doesn't by any means indicate that hamsters could do a better job in running our country.
The Biden administration has insisted that the U.S. is unwavering in commitments and placed much of the blame for the crisis in Afghanistan on the country's military and the Trump administration. [Biden's words mean nothing]
"The previous administration's agreement said that if we stuck to the May 1st deadline that they had signed on to leave by, the Taliban wouldn't attack any American forces," Biden said on Tuesday. [Further proof that he can mouth words written for him but has no idea what he is saying.]
.
THE END