Comment by Jim Campbell
August 31st, 2021
Seriously, at least temporarily, the world appears to be going to hell in a hand-basket.
The best thing Biden's cabal can come up with is addressing legislation in schools over mask bans?
When we listen to the leftist media, and the deceivers in Congress it might be the wisest choice to trust no one.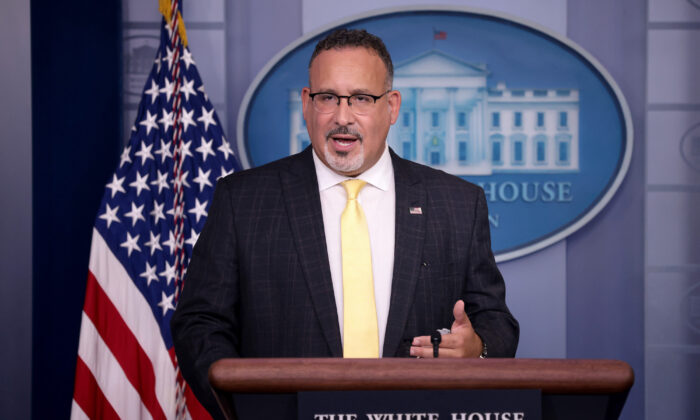 Secretary of Education Miguel Cardona answers questions during the daily briefing at the White House on Aug. 5, 2021. (Win McNamee/Getty Images) Education
Fox Mulder: Trust no one
Lara Logan still remains a journalist out to get the facts as she finds them.
She is showing up so frequently on FOX News, she risks being considered being labeled a shill for the network.
As an embedded reporter from virtually all war zones in the world perhaps it's time for a semi retirement, work from home and continue with her reporting.
EpocTimes
By GQ Pan
August 30, 2021
The U.S. Department of Education announced on Aug. 30 that it has opened investigations in five Republican-led states that ban mask mandates in schools, saying such policy could be discriminatory against students with disabilities.
In letters sent to chief state school officers of Iowa, Oklahoma, South Carolina, Tennessee, and Utah, the Education Department's Office for Civil Rights (OCR) said it's looking into whether these states discriminate against students with disabilities by denying them safe access to in-person learning.
The OCR is concerned that restrictions on school mask requirements "may be preventing schools … from meeting their legal obligations not to discriminate based on disability and from providing an equal educational opportunity to students with disabilities who are at heightened risk of severe illness from COVID-19," the letters state.
"The department has heard from parents from across the country—particularly parents of students with disabilities and with underlying medical conditions—about how state bans on universal indoor masking are putting their children at risk and preventing them from accessing in-person learning equally," Education Secretary Miguel Cardona said in a press release.
WILMINGTON, DE – DECEMBER 23: Miguel Cardona speaks after President-Elect Joe Biden announced his nomination for Education Secretary at the Queen theatre on December 23, 2020 in Wilmington, Delaware. Cardona, the Connecticut Education Commissioner, will face the urgent task of planning to reopen schools safely during the COVID-19 pandemic. (Photo by Joshua Roberts/Getty Images)
"It's simply unacceptable that state leaders are putting politics over the health and education of the students they took an oath to serve."
The department said it hasn't opened investigations in Florida, Texas, Arkansas, or Arizona because policies regarding school mask requirements in those states have been struck down by courts or aren't currently being enforced.
The investigations come after Cardona wrote to several states' governors and superintendents earlier this month warning that they could face federal inquiries for outlawing school mask mandates.
Cardona received responses from some of the governors, who signaled that they would continue to support parents' right to choose whether to have their children wear masks at school.
"Parents knows better than the government what's best for their children," Tennessee Gov. Bill Lee said in his one-sentence response to Cardona's letter.
Lee was joined by Utah Gov. Spencer Cox, who called Cardona's letter "extremely unhelpful."
"Utah has been praised for safely keeping schools open last year and for making better masks available to students and teachers this year," said Cox."As we continue conversations with legislators, public health leaders, school leaders, parents, and local health departments about the best way to safely return to schools given the unique circumstances in Utah, the last thing we need is threats from out-of-touch bureaucrats at the U.S. Department of Education," Cox's office stated. GQ PanReporter
THE END