Comment by Jim Campbell
July 28th, 2021
Where in the U.S. Constitution does it say the government has the power to make us wear masks and force us to get "Experimental shots?"
As speaker of the House of Representatives she is supposed to be a leader.
A close inspection of her pet projects shows her to be nowhere near the mainstream on Man caused global warming, partial birth abortions and when a pregnant woman is shot and killed with the fetus dying in the process, she doesn't have a problem with that either.
Far from it, she is usually on the wrong side of most issues.
WASHINGTON, DC – JULY 22: House Speaker Nancy Pelosi (D-CA) gestures during her weekly news conference at the Capitol building on July 22, 2021 in Washington, DC. Speaker Pelosi said that the House would not take up the bipartisan infrastructure bill until the Senate passed the reconciliation bill. (Photo by Anna Moneymaker/Getty Images)
It doesn't , so it looks like it's time to put the Tenth Amendment into play.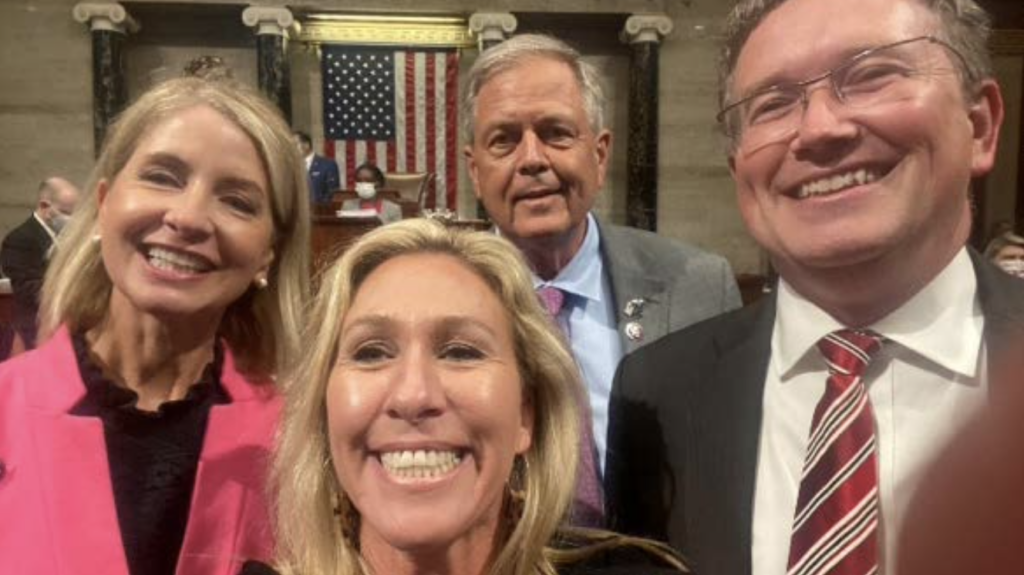 Reps. Mary Miller (R-Mich., left), Greene (front, center), Norman (back, center) and Massie (right) (Getty Images)
Three Republican members of Congress are suing House Speaker Nancy Pelosi (D-Calif.) over what they say is an "unconstitutional mask rule."
Reps. Thomas Massie (R-KY), Marjorie Taylor Greene (R-GA), and Ralph Norman (R-SC) announced the lawsuit today to challenge the $500 fines imposed against them after they declined to wear masks on the House floor on May 18 and May 19, 2021.
The Republicans say their refusal to mask was "an expression of symbolic speech that is constitutionally protected by the First Amendment," and they point out that they took the stand "on the very same day Speaker herself chose not to wear a mask."
Last September, Pelosi was criticized when she got caught violating her own, and public health officials' recommendations and requirements, by visiting inside a beauty salon not wearing a mask to have her hair treated, breaking rules that only permitted service outdoors.
There is no record of Pelosi being fined for the infraction.
This protest speech was a protest against the double standard being enforced by Defendants, the well-founded beliefs shared by Plaintiffs that mask wearing is not scientifically based, that mask wearing is not necessary for the vaccinated or naturally immune, that mask wearing is merely political theater, that one's bodily integrity should be free from government control, that individuals should have the liberty to choose what they wear on their face, and that individuals should be free to make their own medical decisions.

Plaintiffs' symbolic speech was also an effort to highlight recent scientific findings that the use of face coverings has no appreciable effect on slowing or halting the spread of COVID-19.

As such, masks have become a modern-day political battle ground between, , freedom and bodily integrity versus governmental overreach, and Plaintiffs' actions in proceeding to the House floor without masks was quintessential symbolic speech.

Republican lawsuit vs. Pelosi
According to the lawsuit, the Republicans are raising the four following claims:
Imposing fines on the plaintiffs and then collecting them through salary reductions, pursuant to H. Res. 8 and/or H. Res. 38, constitutes a clear violation of the 27th Amendment.

Article I, Section 5, only permits Congress to punish disorderly behavior, and, in this instance, plaintiffs' decisions to proceed to the House floor without masks did not disrupt the proceedings.

Compensation for members of Congress must be set by "law" and the mask rules in question are not a "law" because they have not complied with the Constitution's Article 1 requirements, including passage by both Houses of Congress and presentation to the President.

Plaintiffs' First Amendment rights were violated by the House Speaker because her mask rule serves as an example of unconstitutional compelled speech. Furthermore, the mask rule is being enforced in a partisan and viewpoint discriminatory manner in order to prohibit constitutionally protected symbolic speech of members who are not in the majority.
THE END