Comment by Jim Campbell
July 27th, 2021
To be fair, this one could well be posted under "See it to believe it," or "Ripley's Believe it Or Not."
CA 1940 carnival side show poster, Museum of Living Wonders" featuring traditional "fat lady" Bertha Curtis (Photo by David Pollack/Corbis via Getty Images)
Also when the left uses the phrase, "To be fair," it's safe to say it won't be.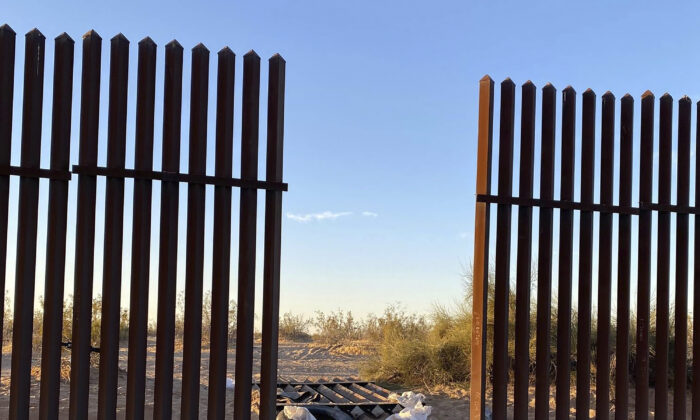 This file photo shows a hole cut into Southern California's border fence with Mexico on March 3, 2021. (U.S. Customs and Border Protection via AP) Executive Branch
What the heck did this fool actually say?
A lot of smoke and mirrors that didn't address the actual building of a wall.
Remember, then President Donald Trump built a wall.
The fools in the Biden administration stopped construction.
Remember, a country or state cannot call itself sovereign if it cannot keep illegals and wanted to enter at their whim which is on going since Biden was illegally put in the White House.
Under the Biden rules we have absolutely no idea who is entering our country.
FREDERIC J. BROWN (Photo credit should read FREDERIC J. BROWN/AFP via Getty Images)
Epoch Times
July 27, 2021
The Department of Homeland Security said Tuesday that it will do some repairs and reinforce some portions of the border wall, marking the first Biden administration-directed improvements to the barrier championed by former President Donald Trump.
Department of Homeland Security (DHS) Secretary Alejandro Mayorkas, in a statement, said the agency isn't going to build any new barriers.
Reinforcement work will be done to a small area in California, along with three other projects.
"These projects are reflective of the commitment of DHS to ensure the health, safety, and welfare of communities along the border, individuals encountered there, and our Border Patrol Agents who patrol the area," Mayorkas said.
"We remain focused on securing the border and keeping communities safe."
Specifically, barrier-related projects include ensuring that power is restored to municipalities along the El Centro Sector Utility Relocation Project in Texas, address "safety risks and environmental restoration issues" in the Rio Grande Valley in Texas, repairing and reinforcing a border wall in San Diego, and replacing drainage gates and powering secondary gates in San Diego.
The move comes days after the agency canceled several contracts for new wall construction in Texas that were signed during Trump's administration but weren't started. Early on in his in Joe Biden's illegal occupation of the White House he signed an order halting border wall work and has since signed dozens of other immigration orders.
Homeland Security's statement said it is looking at ways to spend billions of dollars in appropriations on the border without defying Biden's mandate not to build any more barriers.
"The Biden-Harris Administration continues to call on Congress to cancel remaining border wall funding and instead fund smart border security measures, like border technology and modernization of land ports of entry, that are proven to be more effective at improving safety and security at the borde
After the suspension of the border wall and other Biden orders, congressional Republicans have faulted the administration over a surge in illegal immigration. In June, more than 188,000 illegal aliens were arrested by Border Patrol agents, according to recent data from the agency.
This week, a Senate report said the administration is spending some $3 million per day to suspend border wall construction.
"The Biden Administration is paying contractors at least $3 million per day to guard steel, concrete, and other materials in the desert. At the same time, U.S. Customs and Border Protection (CBP) has encountered over 1.1 million migrants along the Southwest border this fiscal year—a 20 year high.
This policy decision raises significant concerns about the Biden Administration's immigration agenda and requires both Congressional oversight and legislative action," Republicans wrote in their report.
THE END