Comment by Jim Campbell
May 2nd. 2021
Buffing up her credentials as a member of the New World Order, of course Hillary Clinton would want as many of our tax dollars going to the Military Industrial Complex.
Do note give even a moments thought, If the Clinton's thought they could make millions of dollars which the would wash through the Clinton Crime Syndicate, they would do so.
NEW YORK, NY – SEPTEMBER 24: Co-chair of the Bill and Melinda Gates Foundation Melinda Gates and Former U.S. Secretary of State Hillary Clinton speak during the fourth day of the Clinton Global Initiative's 10th Annual Meeting at the Sheraton New York Hotel & Towers on September 24, 2020 in New York City. (Photo by Jemal Countess/Getty Images)
Malinda Gates has no more clue what is going on than her own "Slick Willy.'
Zero Hedge
by Tyler Durden
May 02, 2022
When interventionists and national security deep state hawks need to prolong what's already the longest war in in US history, who're they gonna call?…
"Hillary Clinton and Condoleezza Rice told members of the House Foreign Affairs Committee they're worried about President Biden's plan to withdraw all U.S. troops from Afghanistan, with Rice suggesting the US may need to go back," Axios reports.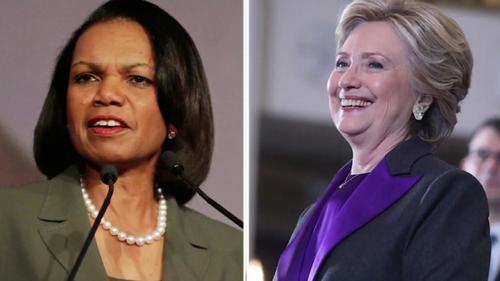 The pair's "expert" testimony was given over Zoom and appears to have been kept relatively quiet, given it was a 'closed door' members only call, until Axios learned of it.
Rice of course infamously served as George Bush's National Security Advisor during the initial invasions of both Afghanistan and Iraq, and crucially helped make the case for war to the American public, later serving as Bush's Secretary of State through 2009.
Having helped start two failed wars, both of which have long remained deeply unpopular among the American public, naturally Condi Rice as a pre-eminent neocon voice would be consulted as a "stay the course" point of view.
It's also deeply revealing that there's no foreign policy space in terms of viewpoint whatsoever between Rice and Clinton, latter who pushed for the US-NATO invasion of Libya and planned covert regime change in Syria against Assad.
Little is known about precisely what Hillary testified, but it's not difficult to imagine.
Here are a few key insights via Axios:"Condi Rice is like, 'You know, we're probably gonna have to go back,'" amid a potential surge in terrorism, the member said.Rep.
Mike McCaul (R-Texas), the top Republican on the committee, told Axios:
"With the potential for an Islamic State, coupled with what they're going to do to our contractors in Yemen and Afghanistan is, sadly, it's going to be tragic there and we all see it coming."
Another member of the committee confirmed both Clinton and Rice raised concerns about the potential fallout from a quick removal of all U.S. troops.
Both also expressed concerns about protecting U.S. diplomats on the ground following the withdrawal and what the move will mean for the global war on terrorism.
THE END