Comment by Jim Campbell
April 12th, 2021
A plausible way of handling this radical behavior would be to carpet bomb the area with leaflets telling would be rioters that those caught will go to trial and be put in prison for a very long time.
If they are tried in their own state they will likely go free.
Move the location of the trials to states like Texas where a fair and impartial jury would be possible to empanel.
We have a constitutional right to freedom of assembly and expression.
No where does the Constitution and bill of rights read that it is o.k. to riot and burn buildings to the ground.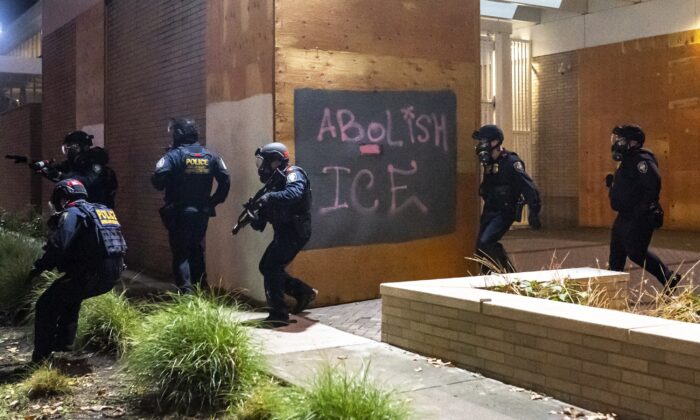 Federal officers disperse a crowd at the Immigration and Customs Enforcement detention facility in Portland, Ore., April 11th, 2021. (Nathan Howard/Getty Images)
Epoch Times
April 11, 2021
Rioters in Portland, Oregon, tried to set fire to the U.S. Immigration and Customs Enforcement (ICE) building on Saturday night, according to video footage and local journalists.
Video footage uploaded on Twitter by several users showed a fire burning at the entrance to the building.
Rioters were also seen shooting off Roman candles at the building. And a small fire was seen in the ICE building's driveway, footage showed.
The individuals were then seen placing wood and pallets on top of the small fire. According to one uploader, "many windows have been smashed."
Freelance journalist Chris Landis reported that police and protesters faced off outside the ICE building.
Federal agents reportedly used pepper balls in an attempt to disperse the crowd, according to freelance journalists on the scene.
Later, he wrote: "The ICE building has been set on fire."
The Epoch Times has contacted the Portland Police Department and ICE for comment.
It's not clear if there were any injuries or arrests.
Left-wing protesters and rioters from anarcho-communist network Antifa have, for years, targeted the ICE building in Portland including during last year's summer riots.
In 2018, a vigil at Portland's ICE headquarters turned into a tent city-like encampment with several hundreds of people reminiscent of the Occupy Wall Street protests about a decade ago.
On Friday, a small number of protesters smashed windows of a Portland contracting company, Rapid Response Bio Clean, that has been previously hired to clean up debris left after riots or unauthorized encampments.
"No arrests were made, but the investigation is still ongoing," said Portland Police Bureau spokesman Sgt. Kevin Allen, according to the Portland Tribune.
"We ask that anyone who has information about who is responsible for the criminal mischief to email crimetips@portlandoregon.gov."
Reports suggested that several windows were smashed at a local Chase Bank location and other buildings.
Last week, firefighters and police responded to an apparent arson attack at the Portland Police Union building.
No arrests were made.
Separately, Multnomah County commissioners sent a letter to the White House asking that federal agents stop using tear gas against rioters.
"Over the past year, tear gas has been deployed by law enforcement agencies on multiple occasions in response to protests across Multnomah County, including in residential neighborhoods and parks.
This indiscriminate use of chemical weapons does not just affect protestors, but also harms neighbors who are unwittingly exposed in their own homes," they wrote.
THE END