By Jim Campbell
November 19th, 2019
This article makes me wonder if Consumer Reports has been bought and paid for like most of the magazines in America?
Snapping up a brand-new model is exciting, but it can often result in headaches, according to CR's latest reliability survey.
This is my car above and yes it has a red and black interior.
It's my fourth back to back lease.
Anyone who can't get 400,000 miles on a Toyota engine, doesn't know where the dip stick is or didn't change their oil.
The above driver is not me, he's my "Crash test dummy."
By Jon Linkov November 14, 2019 1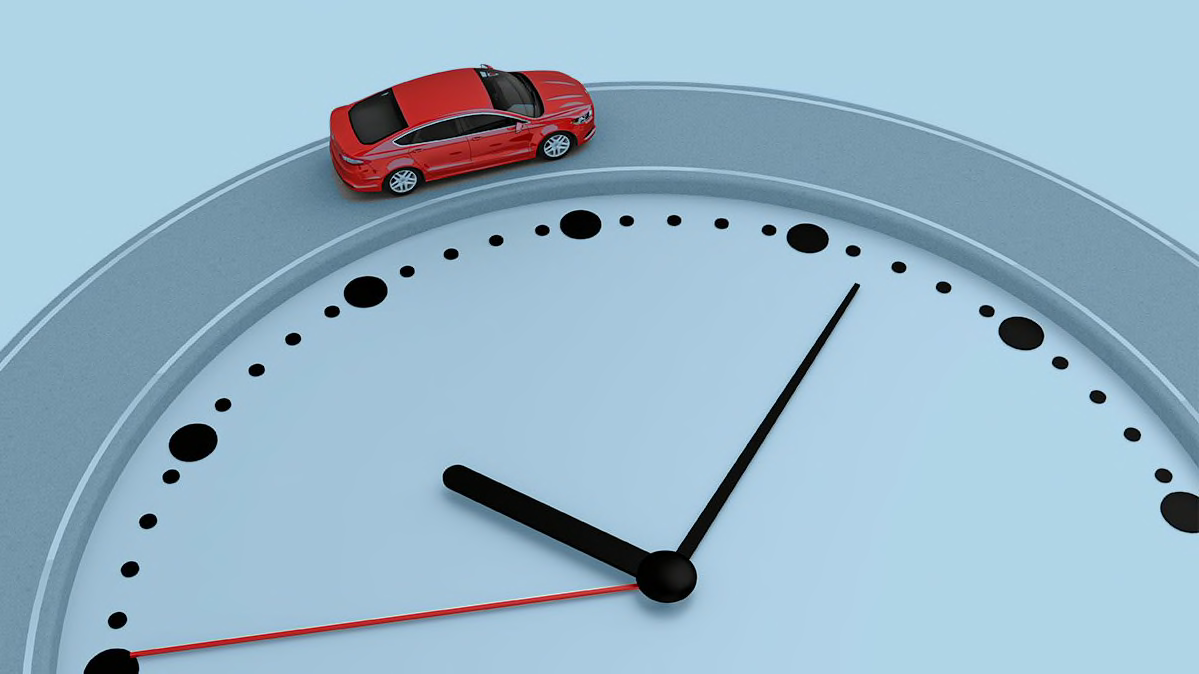 For car lovers, a dealership showroom can evoke that proverbial "kid in a candy store" feeling, as you ogle the high-sheen brand-new models, dripping with cutting-edge technology. Not to be a buzzkill, but we're here to advise you to resist, and instead consider a model that's several years into its redesign life.
Why? CR's proprietary analysis shows that vehicles tend to be most reliable by the final year of any particular model run (typically five to seven years), after many of the bugs have been worked out, and least reliable in the first year of a redesign, when freshly reconfigured and often touted as "all new."
"It's tempting to want to be the first on your block to have the newest car, but that comes with reliability risks," says Jake Fisher, CR's senior director of auto testing. "Being patient can save you from years of frustration."
More on Car Reliability How a Vehicle Redesign Can Drag Down Car Reliability 10 Most Reliable Cars 10 Least Reliable Cars Tesla Model 3 and Model S Regain a Consumer Reports Recommendation CR's Guide to Car Reliability
When a model is redesigned, the name, such as Chevrolet Malibu or Toyota Camry, usually stays the same, but the body, transmission, engine, and other parts might get updates.
It may be safer and have desirable features, but with those changes come hiccups or malfunctions, which automakers track through customer complaints and address through updates, recalls, or revisions to how they build the model.
In this way, the vehicle matures into improved reliability, making it a choice that consumers can have more confidence about buying.
In general, we found that it can take automakers two to three years—or even longer—to address problems in newly redesigned models.
The percentage of new or redesigned vehicles in our 2019 survey with below-average predicted reliability; 33 percent had above-average predictions, and 22 percent were average.
For example, in 2017 CR members reported the Honda Odyssey as reliable.
But they reported multiple problems after its 2018 redesign, mainly with the infotainment system and power equipment, causing the minivan to lose its recommendation.
The problems have persisted with the 2019 model.
Some automakers can resolve the headaches quickly. The 2018 Tesla Model 3 has suffered from problems including cracks in the rear window glass, loose trim, and paint defects. Members reported far fewer of these concerns with the 2019 Model 3.
Our latest survey shows that fewer members reported those problems, and the sedan now has average predicted reliability—regaining its CR recommendation.
Still, there are brands, such as Toyota and Lexus, that often have fewer glitches with their redesigns.
The redesigned 2019 Toyota Avalon and Lexus ES both had well-above-average first-year reliability.
How We Score Reliability
Every year, CR asks its members about problems they've had with their cars, minivans, SUVs, and trucks in the previous 12 months. 
This year we gathered data on 420,000 vehicles, spanning the 2000 to 2019 model years.
Members reported on problems in any of 17 trouble areas, including engine, transmission, in-car electronics, and more.
We use that data to calculate reliability ratings for every major mainstream vehicle.
The predicted reliability for the 2020 models on is based on each model's overall reliability for the past three years.
We do this for redesigned models by analyzing the brand's reliability history, the previous generation's reliability, and if applicable, the reliability of models the vehicle shares components with. These are our predictions, and reliability can change if the automaker resolves problems or creates new ones by freshening the model.
The Life Cycle of a Redesign
These data show the BMW X3's rocky reliability ride after a redesign. The SUV was redesigned in 2011, and it took until the 2016 model to work out the bugs. It was redesigned again for 2018.
The X3 suffered from first-year flaws, and that model year continues to have well-below-average reliability.
The data show that the automaker was able to quickly address the flaws of the first-year model so that they didn't plague the 2019 X3, which has above-average reliability.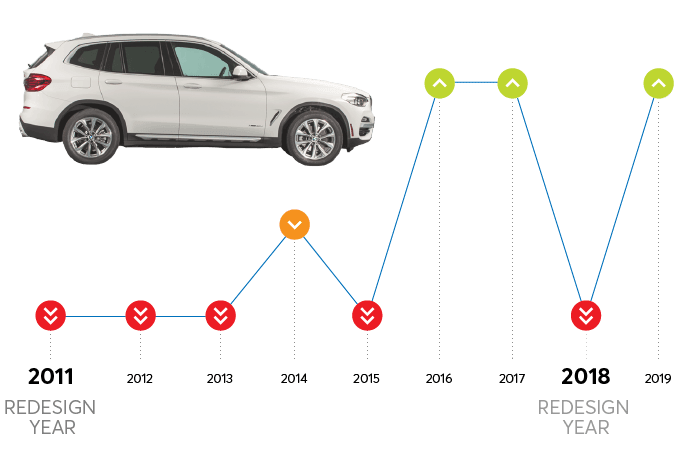 How to Know What You're Buying
If you're looking for a new ride and want to follow our advice to steer clear of a potentially problematic redesign, you may find yourself confused by advertising promotions that play fast and loose with terminology.
Follow these steps to success:
Always do your research in advance.
The free car model pages on CR.org let members know whether the model they're considering is a brand-new debut or whether it has been redesigned from the prior year.
The more complex or extensive the changes, the greater the chance of problems in the first year on the road.
If the car has been redesigned, consider asking the dealer whether there are any previous-generation models available.
An added bonus is that the older model is likely to be discounted.
If you still want that newly redesigned model but don't want to run the risk of first-year troubles, wait a year and check CR's data to see whether it meets our reliability standards.
You may plan to lease or trade-in your car before the warranty expires.
But keep in mind that even though you won't have to pay for repairs, you'll waste a lot of time repeatedly taking an unreliable car to and from service, which can quickly get frustrating.
THE END