---
By Jim Campbell
February, 14, 2018.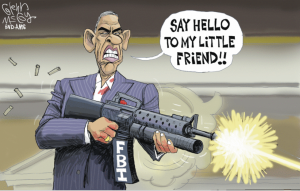 William Campbell was undercover for the FBI and CIA for six years gathering evidence of a grand Russian scheme to "dominate" the uranium industry.
Whoops, Hillary didn't know that.
The question?  Why wasn't she brought down to the grown and indicted?
There are charges of espionage, bribery and extortion (just to name a name a few) coming from Russian agents trying to take control of U.S. uranium interests.
Who knew? I
t's clear the FBI and CIA knew, along with the Department of Justice, the State Department and, most likely, the IRS because, after all, the Clinton Foundation was a global charity fraud.
Campbell documents real Russian collusion and treason in the Obama Administration, which has connections right up to President Obama.
This story is just getting started. I predict many will be charged with multiple crimes, including treason, before this is all finished. Sometime in March, the DOJ Inspector General,
Michael Horowitz, will release his report on the FBI/DOJ handling of the Clinton private email server where Clinton was exonerated behind the scenes months before the FBI investigation was finished. Tsunamis of truth waves are coming, and then arrests and prosecutions.
This rodeo looks like it's about to come to a very quick ending.
Bill Priestap is the head of the FBI Counterintelligence operation.
He was FBI Agent Peter Strozk's direct boss.
As we begin to put together the pieces, it's apparent how Bill Priestap is central to the case.
This is they type of "Political Kabuiki we have all become use to with the fake media that consistently fails to tell us the truth.
The Progressive.Left continues to throw anything and everything up against the wall to see what will stick.
This time they are in freezing water way over their pointy little heads.
It's as though they have tried to use Mohammad Ali's "Rope a Dope," strategy when he fought George Forman in the "Rumble in the Jungle," once called Ziar.
Ali's strategy was simple, let George Forman punch himself out.
Ali was not concerned with points from repetitive salvos from Forman, he knew we would pull the trigger and knock him out, which of course he did.
A two-minute review of the fight on YouTube : Here.
When you understand how central Bill Priestap is to the entire 2016/2017 'Russian Conspiracy Operation', the absence of his name, amid all others, creates a curiosity.
I've recently reviewed the FBI charter and mission statement. (Source)
Nowhere with in is it found the FBI management should cover for those the supervise wich in this case and likely others has deceived the American electorate. 
It's time for Priestap to be sat down before a grand jury and if indicted bound over for trial.
This is not the public service we signed up for when as taxpayers we pay they salaries.
If anyone in congress really wanted to know if the FBI paid for the Christopher Steele Dossier.
Bill Priestap is the guy who would know.  That's why Devin Nunes wanted to talk to him.
Well, well, well… Snap. 
This is an interesting development, potentially quite explosive, and, perhaps,  a stunningly   affirmation.
 According to Catherine Herridge, after Chairman Nunes personally took FBI Director Christopher Wray to view the "Intel Memo" on Sunday night, and prior to the House Intel Committee vote to release the memo Monday evening,
FBI Director Christopher Wray sent a Main Justice official and a "counterintelligence official" to view the content.
According to her report, those officials: "could not point to any factual inaccuracies."
Catherine Herridge – Two senior FBI officials have now reviewed a controversial Republican staff memo alleging abuses of government surveillance programs during the 2016 presidential campaign, a source familiar with the matter told Fox News – adding that the officials "could not point to any factual inaccuracies."

The two officials – one from the bureau's counterintelligence division and the other from the legal division,  followed up after an initial review of the memo during a rare Sunday trip to Capitol Hill by FBI Director Christopher Wray.
The House Intelligence Committee voted late Monday along party lines to release the memo, prompting a backlash from Democratic lawmakers. Top Democratic Rep. Adam Schiff called it a "very sad day.

" President Trump has five working days to review the contents but is widely expected not to block its release.

After the contentious committee vote Monday night, the source confirmed that House staffers physically took the memo over to the White House for the president. (read more)
Now, there is no explanation as to the sub-department origin of the Main Justice official, or whether that person was from the DOJ National Security Division. 
However, on the other side of the Justice Department, the official is identified as 'counterintelligence'.
Understanding the sensitivity of the matter (no pun intended), Director Wray likely sent a top official from Main Justice, and likely the top official within the FBI Counterintelligence division. 
The top official within FBI counterintelligence is still the same official present during the 2016/2017 "Trump Operation".  That top counterintelligence official is Bill Priestap.
If Director Wray sent FBI Director of Counterintelligence Bill Priestap to the House SCIF to review the content, and Bill Priestap said he "could not point to any factual inaccuracies", then it is virtually certain that Priestap is cooperating (ie. flipped).
That means the earlier speculation we presented about Priestap could, quite possibly, be in play.
Reminder:
In the past, thanks to some revealing information amid the various investigators of the DC swamp, we have been introduced to some previously unknown people. Timeline HERE
Names like FBI Agent Peter Strzok; his mistress FBI Attorney Lisa Page; their ideological comrade Asst FBI Director Andrew McCabe; FBI Chief Legal Counsel James Baker; DOJ-NSD head John P Carlin; along with DOJ Deputy Bruce Ohr; and his wife, Fusion-GPS contract employee Nellie Ohr.
Fusion-GPS founder Glenn Simpson and his wife Mary Jacoby.
These are a few of the names that have hit the headlines as a result of ongoing investigations into the politicization of the FBI and DOJ.
…. But there's one name ALWAYS conspicuously absent, FBI Director of Counterintelligence, Bill Priestap.
In late June 2016 the first draft of the Steele Dossier was shared back with Fusion GPS and presumably Nellie Ohr was one of the recipients. According to Robby Mook, the partial dossier information was also given to the DNC and Clinton Campaign.
July 2nd, 2016 Hillary Clinton is interviewed by FBI investigator Peter Strzok. No transcripts or recordings of the interview are made.
July 5th, 2016, FBI Director James Comey exonerated Hillary Clinton.
In July 2016 candidate Donald Trump won the GOP nomination.
That same month the FBI Counterintelligence Division began an investigation they later described as a counterintelligence operation looking at Russian interference in the U.S. election.
However, from 10 months of researched documentation, much of it in the MSM, we now know it was an FBI counterintelligence operation against candidate Donald Trump.
Also in July 2016, immediately following candidate Donald Trump's successful bid to win the GOP nomination, a FISA application was denied.
The timing here is far too coincidental (the later narrower version clearly evidences), the FISA application was to wiretap, monitor and conduct surveillance on candidate Trump and his campaign.
In August 2016, the lead FBI Agent in charge of that counterintelligence operation, Peter Strzok told his FBI Attorney and mistress: "I want to believe the path you threw out for consideration in Andy's office that there's no way he gets elected, but I'm afraid we can't take that risk.
It's like an insurance policy in the unlikely event you die before you're 40."
The "insurance policy" appears to be the ongoing counterintelligence operation that later used the Steele Dossier to get the FISA warrant and actually begin the wiretaps and surveillance.
The conversation referenced between Strzok and Page took place in FBI Assistant Director Andrew "Andy" McCabe's office.
All of this information is really just a recap.
Everyone now sees this construct clearly.
The Timelines are brutally obvious. Congress and DC investigators, including the years-long O.I.G. investigation, are currently in the phase of nailing down the players and putting the final touches on the evidence.
The outline is clear as day.
However, within this brutally obvious outline there's a name missing.
That name is the FBI Director of Counterintelligence Bill Priestap.
FBI former assistent Director in charge of Counterintelligence Bill Priestap was the immediate supervisor of FBI Counterintelligence Deputy Agent Peter Strzok.
Bill Priestap is #1. Before getting demoted Peter Strzok was #2.
The investigation into candidate Donald Trump was a counterintelligence operation.
That operation began in July 2016. Bill Priestap would have been in charge of that, along with all other, FBI counterintelligence operations.
On March 20th 2017 congressional testimony, James Comey was asked why the FBI Director did not inform congressional oversight about the counterintelligence operation that began in July 2016.
FBI Director Comey said he did not tell congressional oversight he was investigating presidential candidate Donald Trump because the Director of Counterintelligence suggested he not do so.
*Very important detail.*
I cannot emphasize this enough.
*VERY* important detail. Again, notice how Comey doesn't use Priestap's actual name, but refers to his position and title. Again, watch [Prompted]
FBI Director James Comey was caught entirely off guard by that first three minutes of that questioning. He simply didn't anticipate it.
THE END